---
THE LANDY PAGE
---
The vehicle for the expedition is a 1991 fully waterproofed (in its day) ex-MOD Land Rover 110 Defender. At the time of purchase the paint job would have signaled us out for target practise for everyone from the French farmers to the South African police. So the decision was made early on to respray the landy. The question was what colour?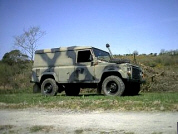 Unfortunately we chose blue!! Which we later were to discover is a tetse fly and every other type of insect magnet (the mozzies love it and use it as a meeting point and were pretty sure a night club as well!). Big thanks to Pete Kemp and his family who assisted greatly (well did all the work really) in the process of not only respraying the Land Rover but rebuilding large proportions of it (its amazing what can be made of fibre glass and held together with rivets!!).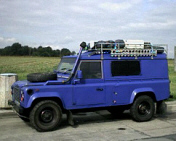 The engine in the landy is a 2.5 normally aspirated diesel which was made pretty exclusively for the British army. The vehicle has spent a lot of time in Norway with the army and somehow carried 10 fully kitted troops (how the hell they did that we donít know as us 2 fat bloaters are having trouble!).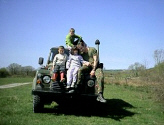 Some slight modifications have been made to the vehicle with underbody and radiator protection being added.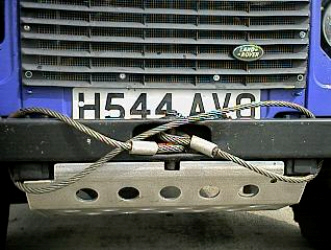 The Landy also boasts a king size bed ideal for newly weds and indeed that is being considered as one of the options on our return. The bed was designed and constructed by my long suffering adopted uncle (cheers again Donny).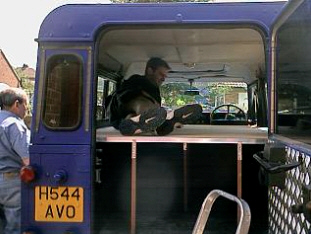 Donny and my dad also constructed the roof rack flooring, the side and rear window protection, the sand ladder mountings and contributed loads of useful stuff such as gas, locks and helpful hints including the all time gem of "this wont make it bullet proof yer know".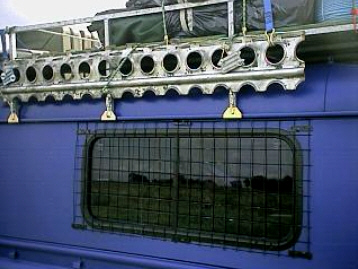 Other modifications include 4 spotlights on the front of the roofrack (thanks again to pete!!), Window blacking on the back and side (thanks to my cousin Mark), a radio cassette player donated and fitted by my work colleagues (thanks to Gray and CJ), interior and soft furnishing (thanks mum and Barb!) the addition of several lighter points a voltmeter and countless other features. Thanks also to everyone else who helped in various ways (Scally you could have yer room back now if we still had the house!).
---