---
TEAM 'AFRICA OVERLAND'
---
| | |
| --- | --- |
| | Hello there, My name is Gavin Davidson. I was born in 1974 in the North West of England. I left school with 8 GCSEs, then went on to do an OND in business & Finance at Southport College of Art & Technology. From there I went onto the University of Huddersfield and attained a Ba(hons) in Business Administration. After several further years of work and travel, I then returned to University to complete a Masters degree in Information Technology at Coventry University. |
Since leaving Coventry University I have been working for CMG Admiral an IT Consultancy firm based out of the Manchester and Derby offices.
I have traveled extensively across the world with stints in South East Asia, North & South Africa, North East, South and Western Europe and of course the obligatory visit to our Southern hemisphere Australian cousins, and a brief visit across the pond.
This trip to me is something that I have been planning and thinking about since I was 20, Africa is a continent with so much potential, beauty and excitement that, to leave this planet without trying to sample its atmosphere would I consider be a travesty of justice.
So here it is our Trans Africa trip, Its going to be fun, scary and down right dangerous but then again so is drinking in a bar in the middle of town on a Friday night!
Quote from Gav: - "You only live once...."
---
| | |
| --- | --- |
| | My name is Dan Acton. I met Gav in The Czech Republic where we were both taking part in a summer camp, teaching english to school kids. This was agreat time where very little english teaching was achieved but a massive amount of cultural exchange and fun was had by all. After this we did a few shirt trips together- some successful, others disasterous but all educational to say the least but we always managed to get through any problems and have somehow managed to stay friends- let see what being couped up in a landrover for 6 months does for this. |
I've been living in japan for the past 3 years and have travelled around asia on the tourist circuit but also some of the more bizare areas. Gav first approached me with this idea about 1 and a half years ago. My initial reaction was not 100% positive, more along the lines of 'you must be out of your f***ing mind mate' as my knowledge of africa and driving skill (which is only comparable to that of a 90 year old who hasn't taken her reliant robin out for a spin in the last 20 years) were both quite limited. However, after constant nagging via late night/early morning phone calls form Gav I finally gave in.
Most of my friends think i am completely insane for doing this but it was an opportunity (provided by gav's overpaid job) not to turn down. A few simply said 'you'll be fine'- i'm hoping they're right.
Expectations wise, i'm not really sure. I think the biggest battle (apart from my death via a number of sources, the number 1 being my driving, the effects of taking malaria tablets for 6 months and gav's feet) is being cocooned in the land rover and not experiencing as much as is possible, but whatever happens it'll be an experience
So, there we have it - this is for all those people who have, in their own ways, inspired the travel bug even the ones i was simply trying to escape.
Place your bets - personally I'll be more than happy if we get past luxembourg.
---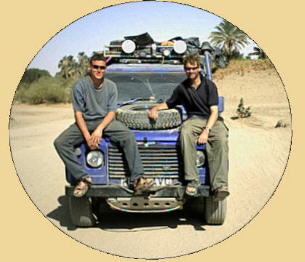 ---